07 Apr

A year of awesome: Celebrating achievements despite the lockdown

Like so many other businesses, at Datum Projects we've been hit pretty hard by the lockdown. Not being able to work on-site or at our factory has left us all with a lot of time on our hands! But although it's a challenge, we feel like there's enough negativity out in the world right now – so we thought that we'd use this time to look back on some of the awesome projects we've worked on and achievements we've had in the past year.
Commercial Bay
Kicking off this year has been a massive effort at Commercial Bay, Auckland's newest retail, hospitality, and commercial precinct. In the past few months, we've been busy fitting out a total of seven stores, including well-known brands Tommy Hillfiger, Bird On A Wire, Kookai, Cali Press, RM Williams, Lorna Jane, Asics, and Flo & Frankie. But those are just a few of the awesome projects we've worked on this year!
Delivering over a dozen stores at Westfield Newmarket
Our fingerprints are all over Westfield Newmarket, from Country Road – NZ's first Green Star rated fit-out of a retail space – to Laser Clinics, Bird On A Wire, OPSM, and more. And not just in the projects we led and finished early, but in the stores we helped another shopfitter complete. Big thanks to the selflessness, quick thinking, and hard work shown by the Datum crew who were able to deliver all stores to the landlord on time for a seamless opening.
Glassons' head office – just in time
We managed to complete one of our big office interior fit-outs just before the country went into lockdown. We've previously done work with Glassons' retail space – in fact, our first collaboration with Hallenstein Glassons Holdings was on their Hallensteins Queen Street store in 2014, which has since been followed with a handful across the regions including Bayfair, Christchurch, Palmerston North, and Newmarket. It's been a real privilege to continue to work with Glassons and showcase our commercial interior fit-out skills as well.
An authentic Kathmandu space in Christchurch
Having worked with Kathmandu previously, we were the natural choice to develop their new concept stores. And what a challenge – and pleasure – it was to create their innovative spaces, especially bringing the brand back to its home in Christchurch. After flying to Melbourne to hone the designs with Kathmandu's Australian shopfitters, the team were able to deliver the Christchurch and Newmarket stores simultaneously.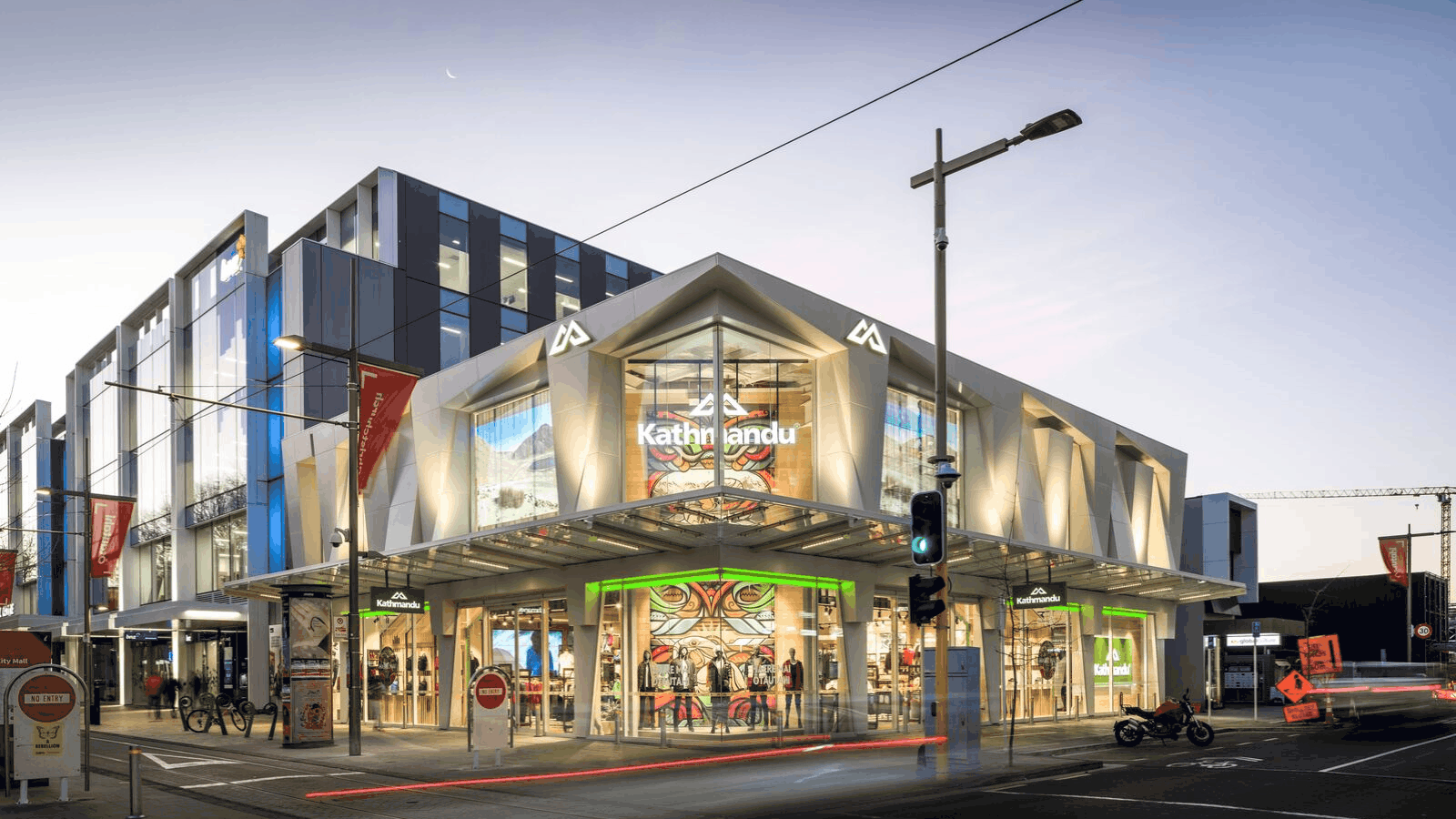 Award-winning projects
Those efforts for Kathmandu paid off, as we were extremely proud to receive three awards at this year's Retail Design Excellence (RED) Awards evening in November for our work with them. What a highlight in our busy year, collecting both the Fashion & Accessories Group win and the Scotty Doors Shopfront Excellent Award for our Kathmandu Newmarket store work, and the Sustainability Special Award for Kathmandu Christchurch.
Moving into our new factory
Although it's currently rather empty, we were thrilled to move into our brand new factory and office space over the Christmas period. Fitted out by our team (unsurprisingly!), it's far larger and enables us to amp up our joinery manufacturing significantly. A particular highlight is our brand new spray painting booth, which has already been put to great use.
Changes to the Datum crew
This year we were pleased to welcome several new members to the Datum Crew, including our new General Manager Adrian Donlan, Financial Controller Grant Sumpter, and Quantity Surveyor Jay Hale.
We also said a sad farewell to Peter Bertham, who retired after nearly a decade with Datum and many, many years in the shopfitting industry. We wouldn't be where we are today without Peter (who was Datum employee #2), so we feel pretty bloody lucky we got him for as long as we did – and now it's time for him to enjoy a well-deserved rest!
Team spirit
We've got a pretty awesome team at Datum – and that's shown by how keen everyone is to hang out outside of work hours! Several social sports teams have been formed from the Datum Crew, including our darts team Dartum and our Tag team Misi-teros. We've also had some epic social events, including our Christmas event at the races (which even saw a few of our team turning into jockeys!)
Although we are all separated right now, I'm really proud of what the team has achieved over the last year – and I'm excited for what's to come once lockdown is done.