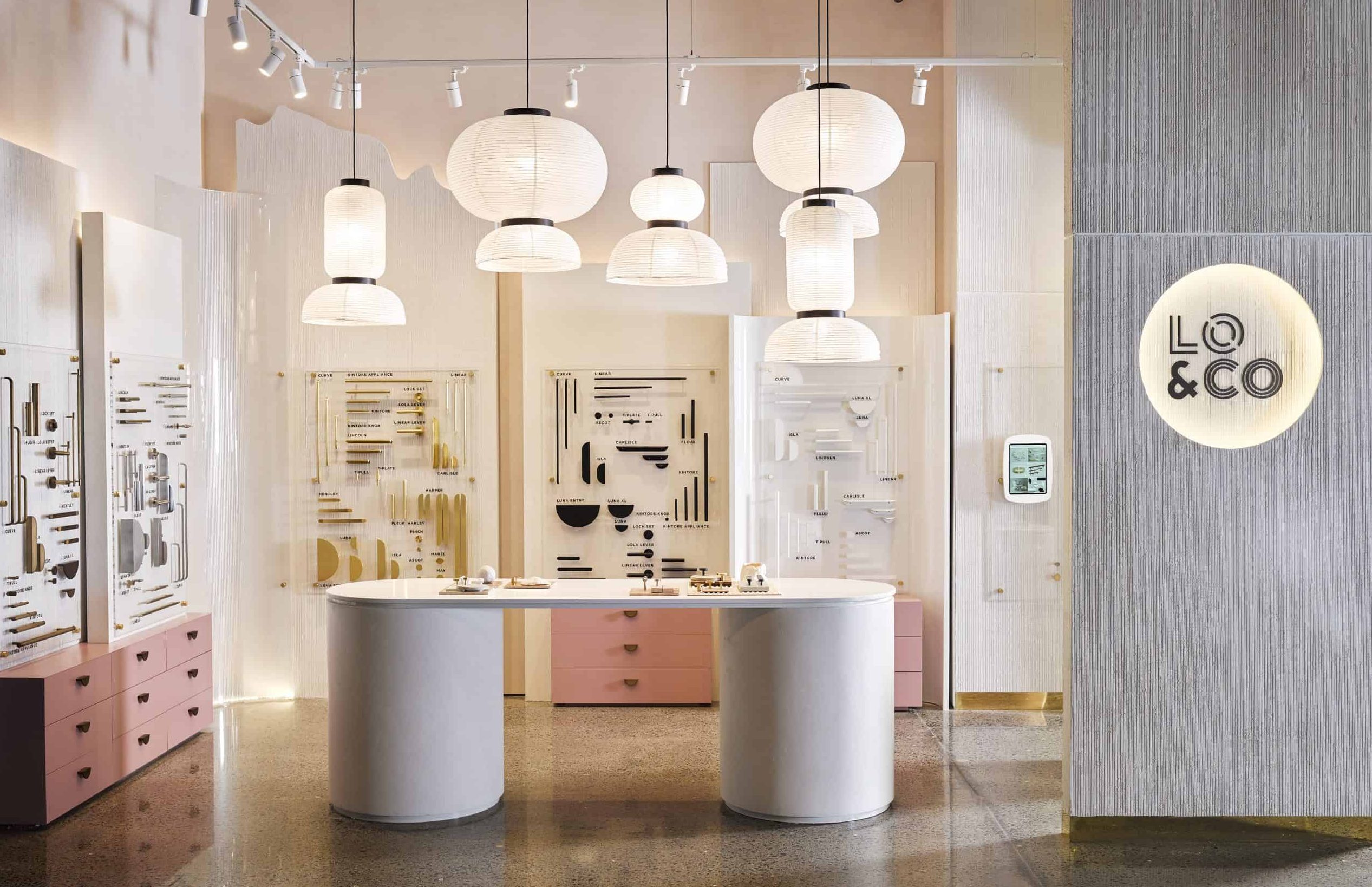 24 Aug

Making the most of small spaces: the Auckland Home Ideas Centre

At Datum, we've been involved in some pretty big projects. But sometimes, the smaller projects can deliver just as many challenges – and be just as rewarding. 

The team recently completed three projects within the Auckland Home Ideas Centre – a centre dedicated to showcasing some of the best home build products and designs from leading manufacturers. The Parnell space has over 50,000 visitors every year, ranging from homeowners to businesses all looking for design inspiration and a hands-on experience. 

We were approached to help with three spaces within the Home Ideas Centre – Lo & Co, NZ Steel, and Astra Walker. Each space needed to shine a light on some incredible products and we're proud to have delivered that for three great clients. 
Opportunities to showcase amazing products
For Lo & Co, the new space was their first in New Zealand and an opportunity for their range of handles, knobs, pulls, and levers to be introduced to an excited new audience. They wanted potential customers to be able to feel and interact with their products and get a sense of what they'd look and work like in their own homes. A decision was made by the design team to create a lifesize, immersive moodboard with the space so clients could walk through and get immediately interested and inspired.
While this wasn't NZ Steel's first space in the country, this was a new one in their most central location yet. They were particularly wanting to connect with homeowners and buyers, architects, and designers, and so it was important that the new showroom had not only a residential focus but was inspiring as well. They were after a cohesive space that people could get involved with which also made the most of the height of the back wall that they'd been given.  
The Astra Walker display space was all about providing plenty of bathware inspiration to clients walking through the space. It needed to highlight their great fittings and products and entice retail and trade clients into the tight space. 
Little designs for a big impact
"For Lo & Co, we kept the design principles classic and timeless, whilst also injecting a sense of whimsy and aspiration," says Toni Brandso of Material Creative, the designers of the Lo & Co showroom. "We wanted to display some of the materials in slightly unexpected ways and use glimmering brass around the entryway to draw people in."
With the small space, Material Creative treated Lo & Co's products like jewellery, delicately placing them around to show off their uniqueness. 
Nancy Disk and Lauren Gibbs also went through a similar process when designing the NZ Steel space. Their client went for the more daring and innovative concept of the two that were created, wanting to push the boundaries within the confines of the showroom. Within a crisp and clean surrounding, three bold geometric structures boldly take centre stage here. They are inclined to represent the contextual application of NZ Steels products to a roof, allowing the customers to get a real sense of what is possible with their COLORSTEEL roof and cladding products and inspiring them to imagine it being used within their own projects and builds.
"NZ Steel wanted a conversation piece," says Nancy. "We went for an abstract design to allow people to gravitate towards the space and for it to really become a destination in the centre, drawing people in through curiosity and difference."
Delivering results
Working with small spaces within the centre, the Datum team had to do things quickly and successfully to get the three projects finished on time. But as with any fit-out, you always run into minor hiccups!
Our main issue was getting all the supplies we needed. With the pandemic delaying how quickly products and materials can be obtained in New Zealand including local ones being turned out, there were a couple of delays with the NZ Steel project in particular. Our client even experienced this first-hand, with their own products contributing to the delays. 
"The deadline was slightly pushed out, which is always tricky to deal with," says Nancy. "But Datum's project manager Michelle was very collaborative and the open communication with us right from the beginning ensured that we were all aware of what was going on, working together to get everything done."
At the Astra Walker site, we had some problems with the installation of the working tapware. "But these issues were eventually resolved in the end and ultimately the Datum team did a really professional job," says Kim Fischer, Astra Walker's New Zealand brand distributor. 
Spaces for customers to be inspired
"We've been hearing from the Home Ideas Centre that the Lo & Co space has a real 'moth to a flame' effect and is receiving great attention," says Toni. "The tactile nature of the display means people are really engaging with it – so we're very happy with the results."
At the NZ Steel space, we've finished our work and now the final bits of cladding are being completed. Nancy foresees the final product being a really successful space for the needs of the client showcasing the relationship between the NZ Steel products and the real-life experience of installing them to your own home.
"It was always our intent to create something where people could come in and have an experience, and that's what we've created," says Nancy. "The space is interactive, with customers able to physically engage, touch, and play with the materials."
For Kim and the Astra Walker showroom, the final product has really resonated with their target audience, and they've so far had great positive feedback.
A new kind of experience
Nowadays, people don't want to just shop out of a catalogue when it comes to designing and renovating their homes. People want to be able to sense, touch and feel elements before they commit to using them in their own spaces. That's why these three projects in the Home Ideas Centre are so special. 
With NZ Steel, Astra Walker and Lo & Co, their customers are able to immerse themselves in their incredible products. They are able to see them in situ, experiment with colours and textures they like, and be inspired by the incredibly designed spaces. 
The team at Datum feel lucky to have worked with Nancy and Lauren, Material Creative, and Kim and all the teams to create these great spaces and are looking forward to a few more Home Ideas Centre projects on the horizon too. They prove that small spaces can pack just as much of a punch!
Keep an eye out for photos of the NZ Steel space coming soon!